Hammocks Beach State Park
Hammocks Beach State Park is a 'must stop' for nature lovers of all ages. To find a beautiful, secluded beach like Bear Island to explore is rare and the folks at Hammocks Beach State Park provide those with a taste for adventure ferry transportation (when needed) and campgrounds for seaside star-filled nights. Yes, you better come prepared when you venture on this trip…but the bird watching and sea shell collecting alone are worth it! (For more information, call the park at (910) 326.4881 or go to www.ncparks.gov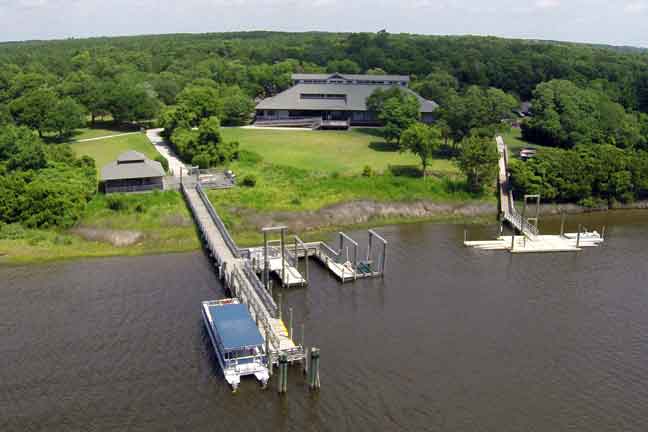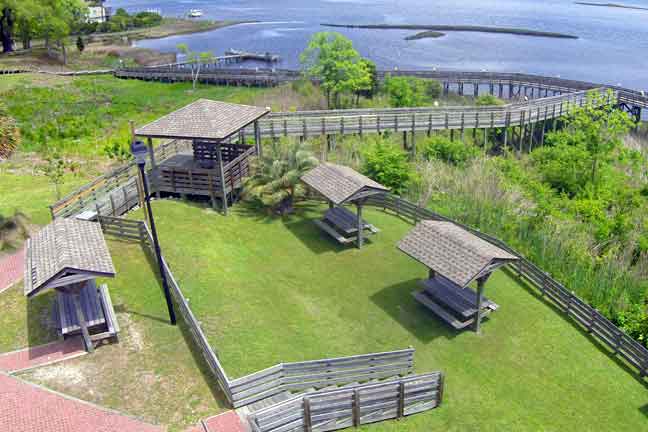 Like to picnic? Just grab your basket and go! Swansboro offers wonderful parks all over town with relaxing waterfront views including Riverview Park, Bicentennial Park and Ward's Shore Park. Try Riverview Park for a stunning view of the White Oak River along an extensive dock walk for a scenic outdoor supper.
(Hey…let the dock walk work up your appetite! You'll be learning about the environment as you go with informative signs and all that learning could make ya hungry for some good ole seafood.)
Bicentennial Park
Bicentennial Park, seen to all who travel through town as it sits right next to the Hwy. 24 bridge in historic downtown Swansboro, is a popular fishing spot. However, its real attraction (pay attention history buffs!) is the striking life-size statue of Captain Otway Burns that overlooks the Swansboro Harbor. Burns was a famous Swansboro shipbuilder known for building the Prometheus, the first steamboat constructed in North Carolina. If you like to watch boats cruising up and down the IntraCoastal Waterway, Ward's Shore Park is the place for you. Located on the south end of Water Street, it's a great place for a picnic and also features a rain garden.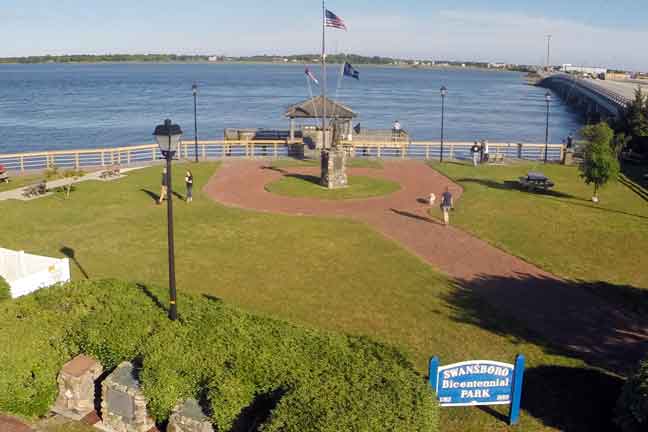 Municipal Park
Families will enjoy Swansboro's Municipal Park, an 18-acre community park that recently added a skating park and is working on the final stages of a full scale recreation center. Other areas include soccer fields, tennis courts, a basket ball court, a beach volleyball court, a playground, a nature trail, small picnic shelters with a picnic pavilion, and a concession/restroom building.
Learn more about
And, of course, the Town Dinghy Dock at the end of Main Street is always available for small boats to dock while their owners dine and shop along the historic waterfront. Plus, it's a great location, right in the middle of town, to just enjoy the view!