By Mike McHugh
SWANSBORO--And on the 351st day, ferry service from Hammocks Beach State Park to Bear Island will resume. The first boat leaves the dock Friday at 9:30 a.m. with a second boat leaving on the top of each hour.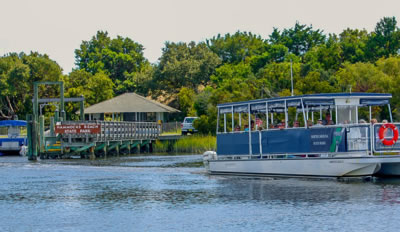 Reservations are not available and fares vary. Adult tickets are $6; seniors 62 years of age or older and children ages 3 to 12 are $4. Infants and children up to 3 are free. Campsites are available for $15 per night.
Hurricane Florence which raked eastern North Carolina beginning on Sept. 13, 2018, and lingering around for several days, inflicted severe damage to the docks and infrastructure at the state park located off Hammocks Beach Road in Swansboro.
While park officials had planned back in 2018 to repair the mainland and Bear Island docks after the ferry season concluded in October, Florence altered those plans.