By Mike McHugh
SWANSBORO--And on the 351st day, ferry service from Hammocks Beach State Park to Bear Island will resume. The first boat leaves the dock Friday at 9:30 a.m. with a second boat leaving on the top of each hour.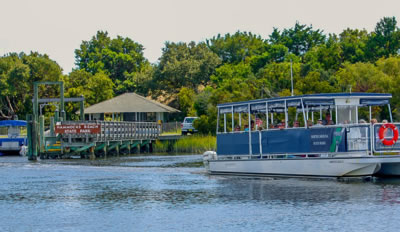 Reservations are not available and fares vary. Adult tickets are $6; seniors 62 years of age or older and children ages 3 to 12 are $4. Infants and children up to 3 are free. Campsites are available for $15 per night.
Hurricane Florence which raked eastern North Carolina beginning on Sept. 13, 2018, and lingering around for several days, inflicted severe damage to the docks and infrastructure at the state park located off Hammocks Beach Road in Swansboro.
While park officials had planned back in 2018 to repair the mainland and Bear Island docks after the ferry season concluded in October, Florence altered those plans.
Work to repair them has been ongoing since late 2018. Ferry season which normally begins on the first weekend in April was suspended while contractors did repair work on Bear Island and the mainland side docks. Visitors to the park can use the rebuilt kayak launch but use of the ferry dock is still uncertain.
A meeting was held at HBSP on Aug.14 with park officials and the contractor regarding a reopening date for ferry service.
"I heard late yesterday that the ferry schedule will be back to normal beginning Aug. 30. The boat ramp remains closed until construction staging can be moved out.  wrote Katie Hall, public information officer with the
North Carolina Division of Parks and Recreation, in an email response to questions submitted by the Swansboro Area Chamber of Commerce.
Park officials confirmed Aug. 15 with the SACC that service will resume on Friday, Aug. 30, with two boats leaving every half starting at 9:30 a.m. After Labor Day, ferry service will return to its fall schedule with one boat shuttling passengers from Wednesday through Sunday.
While ferry service transports the lion's share of visitors to the 4-mile long barrier island, other means of transportation are available through private contractors such as the Lady Swan which leaves from the Fish House Dock on Swansboro's waterfront.
Hall said some of the amenities on Bear Island are operational again with the boardwalk scheduled to be repaired this winter, according to Hall.
"The campsites and bathhouse at Bear Island are now in good condition. Campsites should be open for reservations when the ferry starts running.  The end of the boardwalk going down to the beach was destroyed in the hurricane and has not been repaired yet due to higher repair priorities.  Visitors will have to access the beach through the dune which is currently flat, due to over-wash in Hurricane Florence," Hall wrote.