The 2021 Swansboro Mullet Festival is celebrating its 67th year!
Friday, October 8 - Blessing of the Fleet, 5 pm at Casper's Marina
Saturday, October 9 - Mullet Festival
Sunday, October 10 - Mullet Festival 
What began as a small event to celebrate the completion of the bridge over the White Oak River has become a highly anticipated part of eastern North Carolina culture.  The festival has really put Swansboro 'on the map' during the month of October – while the mullet are abundant along the North Carolina coast.  Yes, it's a fish and a yummy one at that!  Come and enjoy the parade, live entertainment, street vendors, and tons of seafood, especially our local delicacy – the mullet!
Admission to the festival is FREE.
Downtown streets will be closed to vehicular traffic on both Saturday, 10/9, and Sunday, 10/10.
Visitors are asked to leave their pets at home.
Shuttles will carry festival attendants from the parking area at Ward Farm (located behind Hampton Inn) to drop off/pick up Swansboro Town Hall. Shuttles will run on Saturday 9 a.m.-10 p.m. and Sunday 9 a.m.-7 pm.
It's a great weekend for a getaway to the historic waterfront town of Swansboro, aka "The Friendly City by the Sea!"  Book your stay at our award-winning Hampton Inn & Suites Swansboro or one of our local Airbnb or VRBO accommodations.
The weekend festivities kick off on Friday, October 8, with The Blessing of the Fleet.  The Blessing begins at Casper's Marina at 5 p.m. All boat owners are welcome to participate. A wreath will be dropped in memoriam of boat owners who have passed.
The Blessing of the Fleet is for...
*those who work on boats
*those who protect our country
*those who provide food from these waters
*those who use these waters for family and pleasure
*any other boats and owners in our area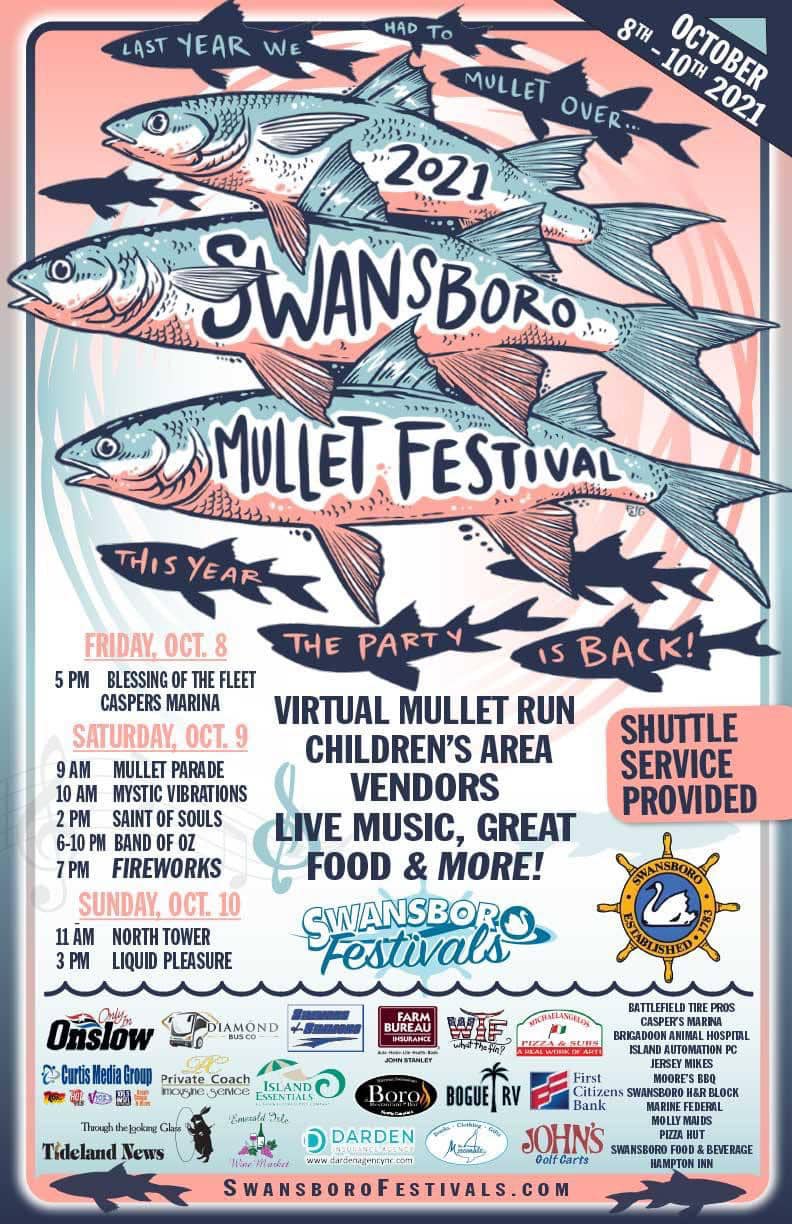 On Saturday, October 9th, come out to enjoy the parade that runs along Hwy. 24 starting at 9 am. Then head over to enjoy the over 150 craft vendors along with food vendors along the streets of downtown Swansboro, and of course the famous Mullet Fish Fry!
In the Children's Area, several inflatables will be set up for kids to climb, bounce and slide on and a craft area for the little mullets. Many other activities will also take place throughout the weekend including the popular "Mullet Toss" in-between band performances.
We look forward to seeing you in Swansboro!  Please visit SwansboroFestivals.com for more information about the Mullet Festival weekend of activities including a 5K Virtual Run, 1 Mile Fun Run, Mullet Toss, and how to order Mullet Festival apparel!