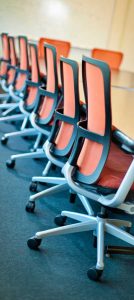 Quality Meeting Facilities
Top-quality and eclectic lodging guest rooms + thousands of square feet of meeting space make bringing your event to the area as easy as an afternoon on the beach with a good book.
Distinct Coastal Identity
This is a delightful seaside community with a rich history and diverse culture. It features outstanding restaurants, top rated golf courses, unique shopping and a variety of historic sites.
Creative, Engaging People
The area's professional sales and service staff are ready and willing to help you make your next event a success. Take the first step towards a great meeting and call the Swansboro Area Chamber of Commerce and Visitor's Center
at (910) 326-1174 or visit
www.swansborochamber.org
Hampton Inn & Suites
215 Old Hammocks Road
Swansboro, NC  28584
(910) 325-9000
Polycom Board Room:  16ppl Conference style
Hammock 1:  Classroom: 60ppl, Theater:  75ppl, Conference: 20,
U-Shape: 30, H-Square: 26
Swansboro Parks & Recreation Center & Municipal Park
830 Main Street Extension
Swansboro, NC  28584
(910) 326-2600
Classroom:  25 Classroom-Smartboard, White Board, &TV
Multi Purpose Room:  100 ppl
Swansboro Plaza Conference Center
714 West Corbett Avenue, Suite 15
Swansboro, NC   28584
(910) 330-1650
Conference Room: Board room 30, Classroom 36, White board, Smart TV, LCD Projector, Full Service Kitchen
Swansboro Rotary
Civic Center
1104 Main Street Extension
Swansboro, NC   28584
(910) 326-6175
Big Screen TV's Audio Equipment
Assembly Room:  150 ppl Banquet
Exhibition Hall:  425+ppl Banquet
Swansboro Town Hall-Conference Room
714 West Corbett Avenue, Suite 15
Swansboro, NC  28584
(910) 330-1651
Conference Room:  200ppl
The Downtown Chapel
116 Main Street
Swansboro, NC  28584
(910) 320-2036